Diagram Reference #7

This replaces the complete original bush in bracket, if you would like to fit an insert only then please use PFF5-107. The bush comes with an insert giving the option to stiffen the mount up by fitting the insert into the voids enabling you to change the bush to suit your driving style.
OEM Part Number: 22116756406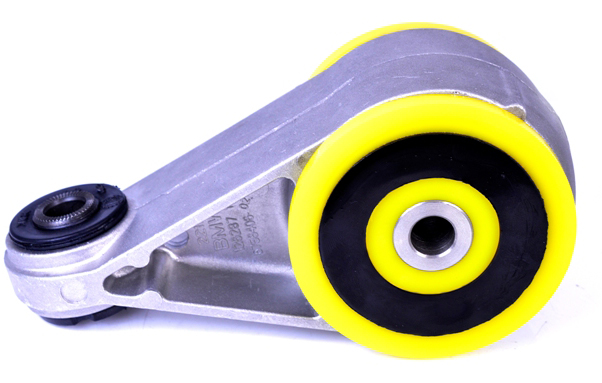 Upgrade Your Car with POWERFLEX Polyurethane Bushes!

Suspension bushes are some of the most highly stressed components fitted to a motor car. They undergo enormous strains and in the most arduous of conditions with no maintenance or lubrication.

The material OEM bushes are manufactured from is a rubber compound containing natural products that deteriorate with age. It becomes softer and more pliable, resisting the forces placed on it less and less. Therefore allowing more and more movement of suspension components and offering less and less control over the suspension geometry.

This in turn causes accelerated tyre wear, braking instability, and poor handling. This is the single biggest reason you can instantly tell the difference driving a three-year-old car compared to a showroom new one. However, even new cars will benefit from POWERFLEX bushes because of the superior design they offer much more effective control of the suspension components to a much greater extent than normal rubber items.

With the technological advances of polyurethane, it has been possible to overcome the common problem associated with harder bushes which is increased noise. By correctly engineering the polyurethane compound, bushes can be made 25-30% stiffer than new rubber items but with exactly the same noise absorbing properties.
Why Choose POWERFLEX Bushes?
Precision Engineering: POWERFLEX's suspension bushes are meticulously engineered, leveraging the latest in polyurethane technology to deliver precision and performance.
Enhanced Performance: Experience unparalleled control, handling, and responsiveness. POWERFLEX's Polyurethane Bushes are designed to optimize your vehicle's suspension, taking your driving to the next level.
Safety First: Trust in our commitment to safety. POWERFLEX's Polyurethane Bushes provide increased stability, reducing the risk of accidents and enhancing road grip.
Longevity and Durability: Polyurethane is known for its exceptional durability. POWERFLEX bushes outlast traditional rubber alternatives, reducing maintenance and replacement costs.
Lifetime Warranty: Drive with confidence knowing that our products are built to last. POWERFLEX's Polyurethane Bushes come with a Lifetime Warranty, offering peace of mind and long-term value.
Trusted Worldwide: Join the ranks of satisfied car enthusiasts worldwide who trust POWERFLEX to enhance their driving experience.
POWERFLEX bushes make sense.
POWERFLEX for improved performance.
POWERFLEX for increased safety.
POWERFLEX for prolonged tyre life.
The prices and quantities shown on our website are per pack.
Each pack includes the amount of bushes required for that vehicle. If your vehicle requires two of one bush, you only have to buy the product once.
The number of bushes required per car are shown in the product code (e.g., codes ending in x1, x2, x4 mean 1, 2, or 4 per car).