To fit Mini F57 Cabrio (14 Onwards)
Diagram Reference #2
PFF5-1302G Front Arm Rear Bush Caster Offset is a CNC-machined Aluminium mount with polyurethane bush providing approximately 1 deg of caster offset to improve in-corner camber gain without compromising straight-line traction. Tested on our championship vehicles, these parts make a proven addition to improve the handling on any track, race or road going Mini.
OEM Part Number: 31126850403 / 31126850404 (12/02/2013 to 11/06/2014)
OEM Part Number: 31126874341 / 31126874342 (09/01/2014 to 12/15/2017)
OEM Part Number: 31126882843 / 31126882844 (09/09/2017 on)
Powerflex's special polyurethane is an advanced material with unique properties. Upgrade your Mini ~ F57 Cabrio (14 Onwards) with high performance bushings, bushings that won't cause vibration or noise and include a Lifetime Warranty!

Why Powerflex Bushes?:
Increased Tyre Life
Improved Performance
Increased Safety
Lifetime Warranty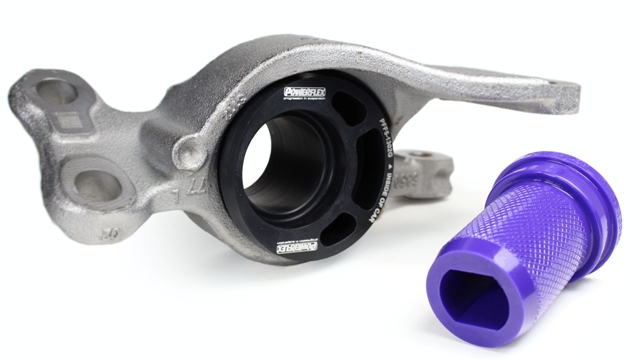 PFF5-1302G has a knurled pattern body to retain grease and allow free rotation of the bush. This prevents torsional twist in the bush material, aiding performance, reliability and increasing longevity.