Mondeo (00-07)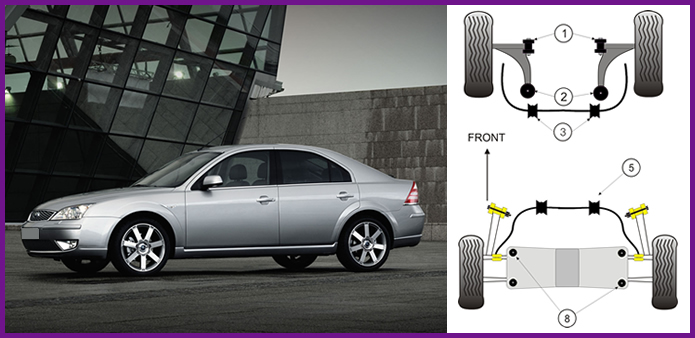 Powerflex's special polyurethane is an advanced material with unique properties. Upgrade your Ford ~ Mondeo (00-07), with high performance bushings, bushings that won't cause vibration or noise and include a Lifetime Warranty!
PFF19-1303 fits anti roll bars with flats pressed into bar where bush sits.
PFF19-1304-19 fits ST models
Please check design of rear anti roll bar, use either PFR19-905-* or PFR19-1316-*
PFR19-910 & PFR19-905-* fit saloon and hatch models only NOT ESTATE VERSIONS
The rear subframe is held to the body with 4 rubber bushes, these bushes fail making the rear subframe to come away from the body, this causes knocking from the rear and is an MOT failure. PFR19-910 are an easy to fit reliable fix to this problem.