Coupe (81-96)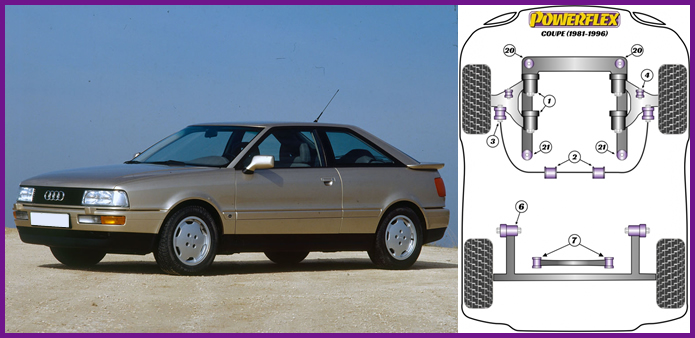 Powerflex's special polyurethane is an advanced material with unique properties. Upgrade your Audi ~ Coupe (81-96) with high performance bushings, bushings that won't cause vibration or noise and include a Lifetime Warranty!
PFF3-101 are for steel wishbones
PFF3-102 are for alloy wishbones
PFF3-104 & PFF3-105 only fit up to 1994 Chassis Number 8B-L-003 791
PFR3-1011-21 & -23.5 Front anti-roll bar mounts are teardrop shaped.
PFF3-106-21.5 Fits models where there is no link rod between the anti-roll bar and control arm.
PFF3-120-10 & PFF3-121-10 fit vehicles with 10mm mounting bolts, vehicles with 12mm bolts use PFF3-120-12 & PFF3-121-12
PFA100-12 and PFA100-14. Fits 2 bolt hub to strut models only. Check bolt diameter.