80, 90 INC Avant (73-96)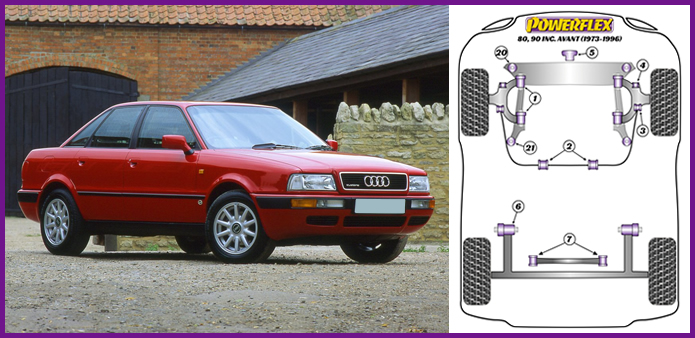 Powerflex's special polyurethane is an advanced material with unique properties. Upgrade your Audi ~ 80, 90 INC Avant (73-96) with high performance bushings, bushings that won't cause vibration or noise and include a Lifetime Warranty!
PFF3-101 are for Pressed arms (37mm)
PFF3-102 are for Cast arms (45mm)
PFF3-104 & PFF3-105 These fit up to chassis number 8B-L-003-791 1994, check front shock absorber after 1991 the anti roll bar may be linked to the wishbone with a metal joint so there will be no outer anti roll bar mount.
PFR3-110 fits up to 1992 chassis number 8A-N-200-000
PFR3-111 fits after 1992 .
PFR3-1011-21 & -23.5 Front anti roll bar mounts are tear drop shaped.
PFF3-106-21.5 Fits models where there is no link rod between the anti roll bar and control arm.
PFF3-120-10 & PFF3-121-10 fit vehicles with 10mm mounting bolts, vehicles with 12mm bolts use PFF3-120-12 & PFF3-121-12
PFA100-12 and PFA100-14. Fits 2 bolt hub to strut models only. Check bolt diameter .